Thousands of homeowners need to bird-proof their homes, but deciding to bird-proof a new home can be challenging as your customers usually only recognise a bird problem after signs of bird infestations.
Do all new homes need to bird proofing? Of course not. It wastes the builder's resources and adds a financial burden to the new homeowner. However, most new homes built on green field sites around urban peripheries benefit from bird proofing measures.
Our research in cooperation with Melbourne gutter guard installers found that 83% of Melbourne homes that installed gutter guards as a bird proofing solution were under five years old.
Furthermore, the same research indicates that bird-proofing solutions were commonly built on greenfield sites around the periphery of Melbourne.
As humans build on naturally occurring nesting sites (Greenfields), those birds look for alternative nesting options – your customer's brand-new home.
Continue reading to learn more about bird-proofing new homes and commercial buildings.
Need gutter guard installed?
When to bird proof a new home
Bird proofing specifications on new build plans are rare. However, homeowners in greenfield areas are more at risk of infestation from pest bird species without early installation.
A bird proofing system is relatively cheap to install during construction stages as the available scaffolding is in place. A retrofit can cost thousands as legal safety requirements at heights will require framing, increasing costs by hundreds or thousands depending on property size.
Retrofit costs will also include bird removal services, maintenance and cleaning of the guttering system and solar panels, which is exceptionally costly for commercial properties.
Feathers, bird fouling and nesting material block gutters and downpipes after heavy rainfall, which can cause water damage to the gutter system and foundations.
Our recommendations for new buildings are as follows:
For brownfield sites, ScreenTech recommends waiting and responding if necessary;

For greenfield sites close to other new builds, look at the surrounding homes (i.e. if you can see bird proofing or nesting in gutters;

Bird proofing should be standard for homes using water collected by a rainwater harvesting system;

Bird proofing is the default for municipal builds on a greenfield, especially for schools where children may be exposed to bird-related diseases and contaminate tank water.
When considering your greenfield site, ask yourself:
Is bird proofing already installed in nearby homes?

Will the home have solar panels?

Are birds standing on the roof of nearby homes?

Are there bird nests in the gutters of nearby homes? Are their nesting materials in drain pipes or that blocked gutters?

Do trees border the site? Is there any bird roosting in those existing trees? (Birds prefer a warm roof, gutter or solar panel to a tree.)

Do bird droppings accumulate around the property area?

Are pest birds local to the area, including pest pigeons, gulls, mynas, sparrows and starlings?
Bird proofing is a fundamental consideration in house design to prevent bird problems. Architects and builders can offer bird proofing to homeowners right from the start.
ScreenTech offers straightforward and expert advice on bird-proofing new properties.
Need gutter guards installed 
Why choose bird proofing over pest control services
Established bird nesting sites attract pest birds and other pests to that location. Pest birds rarely reuse an old nest; however, they will seek out other habitable spaces.
Baby birds have nesting memory, meaning offspring return to the same hatching site year after year – despite removing the original nest. Often, they nest in the opposite corner of your roof or gutter, causing blocked gutter and mess associated with birds.
Problem birds also carry transmissible diseases, such as worms and salmonella. The only way to stop them is to deny them access with a physical barrier.
The rise in solar panel installation on domestic homes across Australia correlates to bird infestations in new and older Australian homes. Birds nest in warm, sheltered places, ideally provided by the gap between the roof and solar panels. As such, bird-proofing mesh systems prevent birds from nesting underneath the panels.
Birds are territorial and destructive. It can cause lasting damage to solar panels, and often this damage is not covered under a warranty. The combination of flat surfaces on the roof and solar panels make pest control, cleaning and maintenance extremely challenging requiring a professional approach. Any solar panel damage during the cleaning and bird removal may not be covered under warranty and may cost customers thousands.
The only way to stop birds from nesting underneath solar panels is to install a physical barrier that allows light and moisture to permeate but denies birds and other animals access.
Order a sample pack with integrated gutter mesh samples. 
Integrated gutter mesh system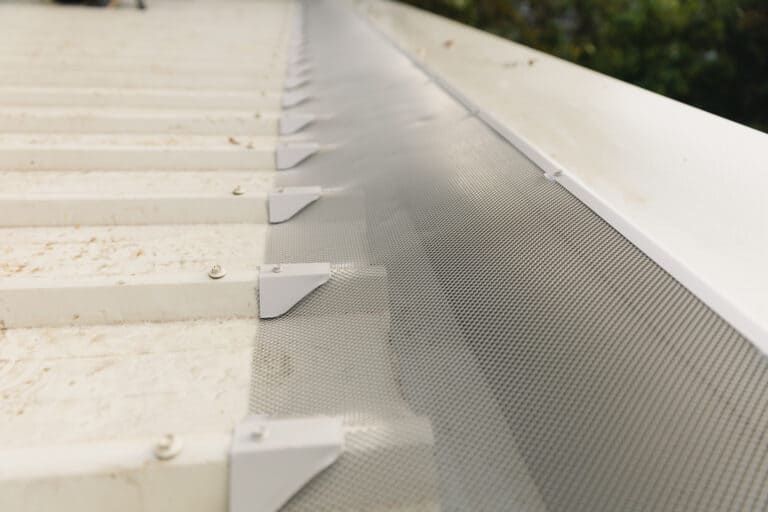 An integrated gutter mesh prevents birds from accessing gutters, roof cavities, valleys, and other spaces birds use for nesting. A bird mesh system covers these areas deterring birds. It encourages healthy water flow through gutters creating a permeable protective barrier specially-manufactured to prevent birds from nesting and perching.
Solar panel bird mesh system
SolarMesh is a wire PVC-coated stainless steel or galvanised mesh with a larger hole size than typical gutter guard mesh. The larger 12mm aperture ensures the panels don't overheat and diminish panel energy collection. It is secured safely to the solar panels with clips that prevent damage and voiding the panel warranty.
Need gutter guard installed?
Most pest control is not a preventative measure. Most pest control includes removal, cleaning and control measures without installing them permanently. Some bird control measures include chemical bird control, which is toxic to other birds, including natives unlikely to nest on your roof.
Bird spikes prevent birds from perching and roosting but may not prevent nest development. It is also the most visible of the measures from ground level. It is often applied with other bird prevention measures, such as an integrated gutter guard system, to provide commercial properties with 100% complete protection.
Like spikes, in conjunction with other measures, bird netting for commercial properties and large domestic homes prevent bird infestation. It can provide a 100% bird solution if installed as part of an integrated gutter mesh system. However, it will not deter smaller bird species and can trap birds if installed incorrectly.
Need gutter guard installed?
New home bird proofing benefits
Some benefits of bird proofing include:
Reduce the risk of property damage to commercial & residential property, including shingles, tiles and wooden fascias.
reduce gutter system blockages
Improved rainwater quality for tanks and rainwater harvesting systems.
Reduce risk to your family's health as droppings and fouling carry transmissible diseases and parasites, including salmonella.
Reduce risk from other pests that are attracted to bird nests.
Improved property aesthetics as bird droppings are highly corrosive and acidic, leaving stains, discolouration and damage to outdoor structures.
Reduced nesting litter around roofing eaves, verandas and gutters
Reduce noise pollution caused by baby birds and nocturnally active
Improve solar panel life expectancy and energy output
Encourage native bird species in your garden.
Free bird proofing mesh samples
Want to know more? ScreenTech sends out samples and guides to architects and discusses projects and considerations.
Look no further than ScreenTech's environmentally friendly, humane bird-proofing products. Our mesh prevents bird nests in gutters, roof valleys, walls and roof cavities. Get in touch with a ScreenTech installation partner today.